This article is part of our Collette Calls series.
Each year, we end up witnessing surprising sources of power. We have repeatedly stated that something is up with the baseball this year, and the current per-game rate is going to obliterate the standing record from the 2017 season. That year, Adam Duvall, Eric Thames, Travis Shaw and Logan Morrison were each surprise sources of 30 or more home runs. Last year, it was Christian Yelich, Jesus Aguilar and David Peralta. This year, is it really going to be the likes of Derek Dietrich, Renato Nunez, Daniel Vogelbach and Hunter Pence??!!
That quartet of players has combined for 56 home runs: Pence with 11, Nunez with 13, Vogelback with 15 and Dietrich with 17. Our projections had that quartet hitting 54 home runs this season. To be fair, no projection system had these guys doing this. Our rest-of-season projections have them hitting 48 home runs the rest of the season, so the 102 home runs projected for them will be nearly double their projection.
Surprise players like these is what helps wins leagues because it is nearly free production. Vogelbach was the only guy that was rostered in Mixed Tout Wars, and that was done in the reserve rounds. Dietrich went for $1 in NL Tout Wars to Brian Walton, who has an 11-point lead in the league. Nunez went $4 to Chris Liss, Vogelbach went in the reserves to Doug Dennis, while Pence was plucked from the FAAB pile one week into the season.
Each one of those guys has had a fantastic return on investment already, even if they stink the rest of the way and fall off their current pace. None can keep up their current pace, but it is worth looking into what they have done differently, if anything, this season to see where this came from.
We will begin with the elder statesman, Hunter Pence.
I am fairly certain I wrote his Fantasy Outlook for the website as this paragraph is certainly my writing style:
Pence has likely played his last game with the Giants but maintains he is not done playing baseball. Frankly, his numbers say otherwise. Pence has been traveling down the Dale Murphy path to retirement, as he's gone from being 20% better than the league average, offensively, to 40% below average in just two seasons. Those numbers do not turn around at age 36, which is how old Pence will be two weeks into the 2019 season. One path forward could be as a designated hitter in the American League – that would both help keep him healthy and keep his diminishing defensive skills off the field. A more likely path forward is on the Bay Area media crew. He would be an ideal fit for a pre- and/or post-game broadcast crew. The game needs his personality to stick around, but his skills are in full decline.
Pence entered play Wednesday with a triple-slash line of .308/.361/.638, making the most of the opportunity he earned in Texas. He has displaying some old-man skills with an increased pull rate but also with a surprising amount of hard contact and some long-lost loft to his swing.
| YEAR | BARREL% | EXIT VELO | LAUNCH ANGLE | HARD HIT% |
| --- | --- | --- | --- | --- |
| 2015 | 12 | 90 | 3 | 38 |
| 2016 | 7 | 91 | 5 | 41 |
| 2017 | 6 | 89 | 4 | 38 |
| 2018 | 5 | 88 | 6 | 33 |
| 2019 | 9 | 93 | 11 | 47 |
Pence spent the offseason working with hitting guru Doug Latta, the same guy that helped turn Justin Turner into the hitter he is today. You can watch Pence talk about the improvements in this video. The mechanical changes to his swing have resulted in his bat staying in the zone longer and he is now swinging with the intent to drive the ball up and out rather than just spraying line drives.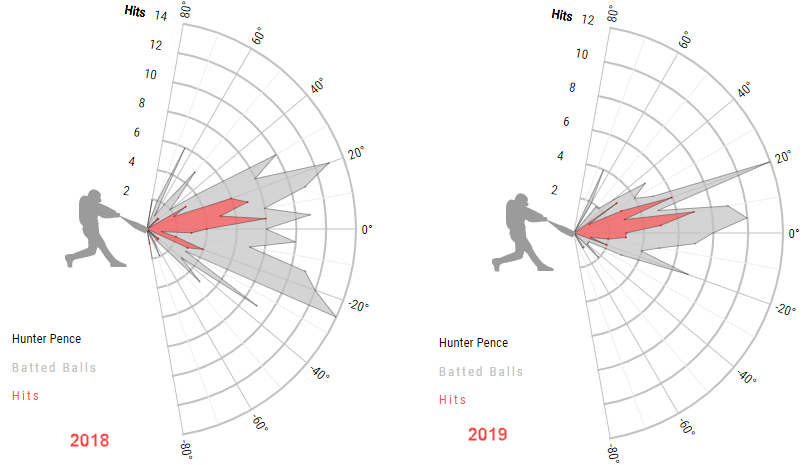 We see a few hitters go through this evolution every year and it takes pitchers some time to adjust to the new hitter. StatCast believes in the bat as there is just a 20-point gap between his current .415 wOBA and his expected wOBA of .395. He is in the top 10th percentile in nearly every offensive metric they measure, including sprint speed. He is defying his age, and making my preseason capsule look worse than my face did last week.
Derek Dietrich has shown power previously. It was just last season that he was my bold prediction for the Marlins when I said he would lead the team in home runs; he finished second. He has already surpassed that 16 home run total last year in 551 plate appearances this season, with 17 in just 144 plate appearances. They all have not come against Pittsburgh, but it certainly feels like that is true.
A look at Dietrich's batted ball profile shows a significant spike in his flyball rate. He has averaged a 38 percent flyball rate for his career but is air-balling this year at a 52 percent clip. He has also pulled the ball at a 47 percent rate, something he had not done since 2014 in his sophomore season with Miami. StatCast gives him strong grades in xSLG and xwOBA, but his expecting batting average and hard-hit percentage is in just the 37th percentile. His xBA is .239, which is not far off from his .254 actual average, and his hard contact rate is just a tick below where he was last year.
Last year, the Marlins gave Dietrich 106 plate appearances against lefties and it dragged down his average as he has historically struggled against southpaws. This year, the Reds have limited him to 14 plate appearances to date, so the fact his xBA is still low is more about the unusual season Dietrich is having against righties. He has but a .176 batting average on balls in play because so many of his batted balls against righties have left the yard completely.
The switch from the cavernous Marlins Park to the cozier park in Cincinnati certainly has helped his case, but so has an uptick in his swing plane. His average launch angle has lived in the mid-teens the past four seasons, but is now at 21 percent. His 35 percent HR/FB ratio is nearly three times above his career average, and once that slides back to reality, it will be interesting to see how the rest of his offensive profile holds up:
| YEAR | BARREL% | EXIT VELO | LAUNCH ANGLE | HARD HIT % |
| --- | --- | --- | --- | --- |
| 2015 | 9 | 87 | 16 | 36 |
| 2016 | 8 | 86 | 13 | 32 |
| 2017 | 6 | 86 | 17 | 33 |
| 2018 | 6 | 87 | 16 | 38 |
| 2019 | 19 | 89 | 21 | 37 |
Dietrich is playing like a man motivated by the fact he did not get a major league deal this past offseason and had to settle for a minor league deal with an invite to camp. He is out there working to get bigger numbers in arbitration this offseason and force the Reds to make a decision on whether to keep him and move on from Scooter Gennett.
Daniel Vogelbach was just hoping to remind people his last name had a single letter "A" in his name and not the "AAAA" label he carried in recent years. He had spent the last few seasons becoming intimately familiar with the mile markers on I-5 between Seattle and Tacoma, where he put up impressive OBP numbers but slugged just slightly above the PCL league average. Vogelbach's raw power was never the question, but it never really showed up in games in the very inconsistent playing time he got with Seattle from 2016-2018. It is silly to compare what he had done previously to this year because we are talking about 146 plate appearances spread over three years.
This year, the prototypical designated hitter is exceeding everyone's expectations with a .403 wOBA. He is slow as slow comes, so he tries to hit everything in the air, and has hit flyballs 54 percent of the time this season. StatCast shows his hard hit rate is in the bottom third percentile while his expected batting average is in the bottom 40th percentile. It is no secret Vogelbach has to continue to mash to be productive because the heavy flyball approach and glacier-like footspeed are not going to lead to any batting average fortune. The fact his expected slugging percentage of .497 is 90 points below his actual of .587 should give you great pause and motivate you to cash in your free house money to an owner in your league desperate for power help. Vogelbach should continue to see his playing time, but he may struggle to get to 30 homers when the season is all said and done, and he is already halfway there less than a third into the season.
That leaves us with Nunez, who is making my bold prediction for him this year look very good on the whole:
Renato Nunez will hit 25 homers. Everyone else is all in on Cedric Mullins, so taking him here feels boring. Nunez has a few things going for him. Baltimore cannot send him to the minors without first exposing him to waivers, the Orioles are terrible and the club should give him a long chance to fail because he only turns 25 two weeks into the season. Ryan Mountcastle is the club's top position prospect, and likely replacement for Nunez, but he has never seen an at bat in Triple-A, and at age 22, no need to immediately rush him to the big leagues....Nunez is a pull-heavy flyball hitter, and is in arguably the best place possible for right-handed power hitters with that profile. Camden has helped many similar hitters put up big numbers, and Nunez can do the same as long as he can stay in the lineup. Last season, he hit .275/.336/.445 with Balitmore in 220 plate appearances, and he hit 32 homers in the Pacific Coast League in 2017. Last season, he had 13 homers in less than 500 plate appearances between Triple-A and the majors. The one thing he has not had in his major league career is a consistent chance at playing time. Baltimore has zero to lose by giving him a long leash and allowing Mountcastle to fully bake in the minor leagues.

LIke Vogelbach, Nunez is now out of options and is making the most of his regular playing time for a horrendous Baltimore club. I only predicted the 25 homers, but the rest of his line is ugly. A .239 average and a .289 OBP is the type of production we expected from him. His exit velocity is in the 86th percentile, his hard hit rate is in the 80th percentile as his his expected slugging percentage. That mixture, in that home ballpark, is what had me excited for the cheap power source this year. Liss beat me in the Tout Wars auction as I was hoping to get Nunez very late, but ran out money and could not bid up any higher.
The issue with Nunez is that he is incredibly streaky and has already had a massive slump this year. He was stuck on six homers for the longest time, so 99 percent of owners benched him, only to watch him go nuts last week: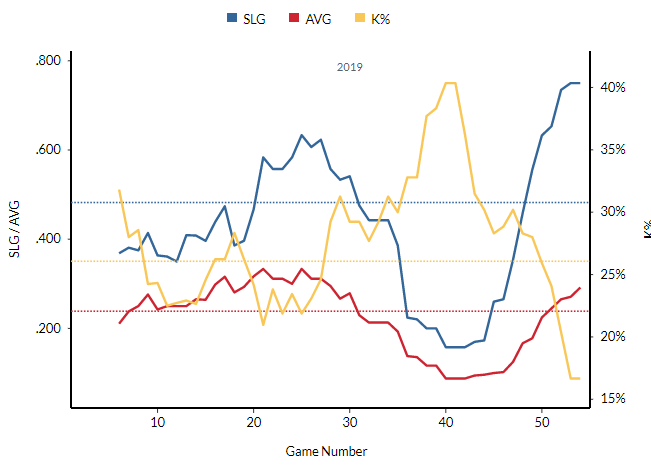 Nunez is never going to earn a batting crown, but he was already losing playing time before the recent hot streak thanks to a heavy dose of lefty pitchers on the schedule giving him favorable matchups. There is a sixty-point gap between his actual and expected slugging percentage to worry about, but as long as he can continue this recent improvement in making contact, his playing time should remain intact and allow him to reach the bold prediction.
My belief: Nunez and Dietrich have a strong shot at 30 homers while I maintain reservations about Vogelbach and Pence getting there by season's end. The home ballpark conditions for Nunez and Dietrich are incredibly favorable and give them the advantage over Vogelback and Pence.