This article is part of our Collette Calls series.
As play begins Monday, Jorge Soler has 35 home runs for a terrible Kansas City club. He even threw in a stolen base Saturday night for the first time all season, and my fading Tout Wars team appreciated the combo meal. I rostered him for $9 in AL Tout in March, and he had a 357 ADP in mid-March. To date, he has earned $25 in a 15-team mixed league format according to our EAV Calculator and $27 in 12-team AL-Only formats.
When you visit Soler's StatCast page, the rankings portion on the upper right jumps out, and it should.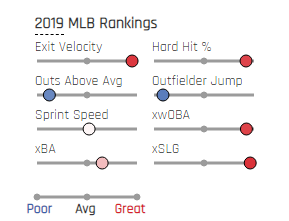 Each of those red dots represent at least a 90th percentile ranking in the category. One can get on a heater for a couple weeks, but it can be argued that Soler has been on this for two seasons now.
2018 was an abbreviated season for Soler due to a toe injury that ended his season in mid-June. Our preseason fantasy outlook for Soler pointed out some of the improvements he made last year and hinted at some possibilities for this season:
Things appeared to be looking up for Soler before he suffered a toe fracture in mid-June, an injury which wound up costing him the rest of his season. He finished with a .265/.354/.466 line and his best wRC+ (123) since he notched a 148 mark in a tiny sample in 2014. Soler cut his strikeout rate from 32.7 to 26.8 percent while raising his ISO from .113