This article is part of our Rebound & Rant series.
It's 7:10 p.m. ET - Luke Ridnour has been traded 19 times today, and I am ready for the draft. Cold beer: check. Healthy disdain for Philly's tankapolooza approach: check. Absurd expectations that the Celtics will make an earth-shattering trade: check. Let's get it on!
7:30 p.m. – I'm oddly attracted to Jay Bilas, and my wife is concerned.
7:38 p.m. – To no one's surprise, the T-Wolves select Karl-Anthony Towns. Somewhere, Gorgui Dieng is crying, and Nikola Pekovic is planning his next injury.
7:50 p.m. – The Lakers, surprising some, take D'Angelo Russell. Many predicted this during the day, saying the Lakers have a veteran free agent big man whom they expect to land. LaMarcus Aldridge? Brook Lopez? Hmmm ...
7:51 p.m. – Does this mean the rumored Celtics-76ers deal is going to happen? Is Boston giving up everything to land Jahlil Okafor? I'm giddy with anticipation.
7:53 p.m. – The Sixers take Okafor, and there is no mention of the Celtics. Maybe this is due to some obscure league headquarters rule? Maybe?
7:59 p.m. – ESPN reporter Andy Katz claims he has spoken with Philly GM Sam Hinkie who says he's keeping Okafor. BORING!
8:00 p.m. – The Knicks are about to pick. How can they screw this up? Maybe drafting the next Darko Milicic? Yep, they do it and take Kristaps Porzingis. ESPN shows a very young Knick fan crying and taking a selfie. Rece Davis, with obvious preparation, wisely points out the last 16 European lottery picks have yet to become an All-Star. Fran Fraschilla (whom I trust completely) says we have to wait two or three years for Porzi to develop –- show me a Knicks fan who can wait two or three years! They don't exist! Go ahead and make that count 17.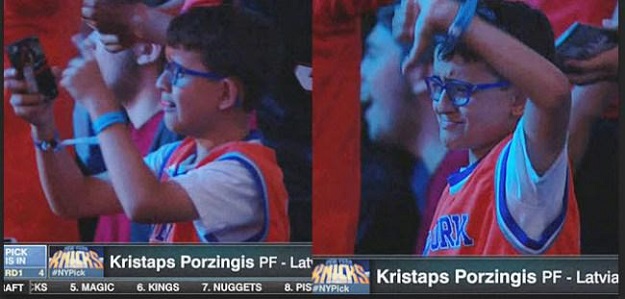 8:08 p.m. – ESPN cuts to the Orlando draft room smiling like crazy. ESPN.com shows that Orlando took Mario Hezonja a good minute before it's announced on their live TV coverage (interesting). I agree with Fran – the Magic desperately need an outside shooter. Heck, they could use a mediocre shooter based on that awful-shooting backcourt of Elfrid Payton and Victor Oladipo. But a 6-8 shooting guard seems too big to guard quick, top-tier twos. This is a team of tweeners (lack pure position players), and I feel like they added yet another tweener. Evan Fournier, make yourself useful and start making French pastries.
8:15 p.m. – A very funny ad with Emmanuel Mudiay airs, seemingly highlighting that he hasn't been drafted yet.
8:16 p.m. – BOOM! The Kings take big center Willie Cauley-Stein. ESPN claims ownership wants to keep DeMarcus Cousins, but then why the heck would Sacramento take WCS? There is NO WAY those two play well together. Cousins is going somewhere, and I'm with Bilas: WCS will not do well on offense or on the boards.
8:22 p.m. – The Nuggets take Mudiay. Did Mudiay use his frequent flyer miles to buy that suit from Ric Ocasek? Crank up the Ty Lawson trade rumors. Do the Nuggets and Kings have a trade in place?
Also, someone at ESPN.com was physically threatened, and now their website and cable broadcast are back in synch. Kudos for the site using the "NaNaNa NaNaNa" sound to announce new picks.
8:28 p.m. – For some odd reason, the Pistons take Stanley Johnson instead of Justise Winslow. Apparently SVG didn't watch the Tourney.
8:30 p.m. – My mother-in-law and niece arrive from the airport for my daughter's birthday party, which starts now. And yet I'm at my desk watching no team make any draft day trades. Ugh. Hopefully my wife is not calling a high-powered team of lawyers.
8:36 p.m. – Another BOOM: the Hornets take Frank Kaminsky. And then they trade Cody Zeller to Washington for a bag of balls and an old Wes Unseld jersey. [Editor's note: Zeller was not actually traded on draft night.] That's three straight power forward lottery picks for this franchise. I like the pick, yet have no faith in Michael Jordan's personnel moves. I hope Kwame Brown helps Zeller move. Why not take Winslow? Analysts then compare Kaminsky to 48 other white guys.
8:42 p.m. – Justise Winslow finally goes to the Heat. Might Miami be planning to let injury-prone Dwyane Wade move on, despite "owing" him lots of sacrificed salary? Riley has the cojones to go bold. Or maybe they know Luol Deng is going to decline his player option.
Next 30 minutes see Myles Turner go to Indiana and Trey Lyles to Utah (more evidence to the "trade Favors" rumors). Devin Booker goes to Phoenix. How can Kentucky have 15 players get drafted? Am I the only person who thinks John Calipari embodies everything wrong with college basketball? The Thunder take a point guard in Cameron Payne, who would be wise to turn into a pass-first point guard.
9:18 p.m. – The Hawks take Kelly Oubre, who better gain 20 pounds. Fine, but have you seen Atlanta's new uniforms!?! I still can't decide if I hate or love them.

The new look! #TrueToAtlantapic.twitter.com/wz8JQzHmoH

— Atlanta Hawks (@ATLHawks)

June 24, 2015
9:20 p.m. – Third BOOM: news breaks that Oubre is heading to Washington. Hmmm, maybe they are losing faith in keeping
Paul Pierce
. How is it Washington can move up, but Boston can't? Pierce going back to Boston is a nice story, but he's way too old. Pierce should really stay with the Wiz. Is it just assumed Boston takes Dekker?
9:25 p.m. – No, Boston goes with combo-guard Terry Rozier. This team is DESPERATE for rim protection, and they take another guard? Should I take a selfie wearing a Celtics hoodie, crying? This pick is so odd it's giving me hope that Danny Ainge does indeed have a trade in place.
Over the next 30 minutes we see Milwaukee take Rashad Vaughn, Houston take Sam Dekker, Washington takes Jerian Grant (who presumably is going to Atlanta) and Toronto takes Delon Wright. Yawn.
9:55 p.m. – Phil Jackson apparently takes a bucket of sedatives, then grants ESPN an interview. It's like even he isn't excited about the Porzingis pick. Phil claims the young man has "intestinal fortitude", while apparently passing a stone. On the positive, Jackson deals streaky Tim Hardaway (a late first-round pick last year) to Atlanta for No. 19 pick Jerian Grant. Not bad.
Dallas takes Justin Anderson who size-wise looks a lot like former-Mavs/now-Boston player Jae Crowder, who the Celtics stole as part of their Rondo dumping. The Bulls take power forward Bobby Portis, who reps the Razorbacks with that dark red double-breasted suit. I don't think I could pull off that look.
9:59 p.m. - I'm handed a slice of my daughter's birthday cake. My wife refrains from gouging out my eye, but you can see the idea lingers in the back of her mind.
10:12 p.m. – The Trail Blazers pick Rondae Hollis-Jefferson from Arizona, but all the state of Oregon can think about is losing LaMarcus Aldridge. You realize the Blazers now have Gerald Henderson and either Allen Crabbe or Hollis-Jefferson as starters, right? Ouch, that championship window closed quickly. Plus Robin Lopez is an unrestricted free agent.
10:21 p.m. – The Cavs take Duke's young Tyus Jones. That could prove extremely helpful if Kyrie Irving's injury problems linger into next year. And the kid knows how to win. Nice pick. BUT … he's going to Minnesota for two second-round picks!?! Ugh, that I don't like. Do the Cavs feel guilty over the Kevin Love deal? That's an impressive young nucleus in Minnesota. Are the T-Wolves suddenly a smart organization?
10:30 p.m. – I have yet another Spurgasm®© as the Spurs take a 7-foot international player who will probably be contributing to another championship three years from now. I know nothing about Nikola Milutinov, but I assume he's awesome.
10:44 p.m. – The Celtics take R.J. Hunter with the 28th pick. Yes, the Celtics really need a scorer and pure shooter, but they now have 20 guards on the roster. Please, please, please tell me some kind of trade is coming.
10:50 p.m. – Apparently it was known months ago that Brooklyn would go with hometown son Chris McCullough. Hey, no rookie can fix that cap space mess, why NOT go with a nice story? Still, you never want your first-round pick to be coming off of an ACL injury.
10:55 p.m. – And the first round ends with Golden State taking Kevon Looney of UCLA. Nice job, Commissioner Adam Silver. And, wow, how about Rod Thorn getting farewell messages from Jerry West and Michael Jordan? Compare that to the fact that no one has gotten this far in my column, and I'm realizing how truly irrelevant I really am. I better go grovel to my wife, daughter and mother-in-law ASAP!!!
[Editor's note: I love reading this, Uncle Ken, and I'm sorry it took me half a day to post, but I'm celebrating this morning. Next stop on the NBA offseason train: Free Agency in five days.]