This article is part of our NBA DFS Breakdown series.
Expected Scores, Spreads and Efficiency

Milwaukee and Houston jump out as teams worth targeting, though a ridiculous spread for a playoff game in favor of the Bucks (-15.0) over the Pistons means we could see the benches emptied quickly again. The only other offense on the slate ranked inside the top-10 during the regular season is the Celtics. Boston players are worth targeting, but we should beware of a slow-paced slugfest again (Game 1 combined for 158 total points) considering the Celtics and the Pacers are both top-6 defensive squads. Utah's defense is also one of the strongest in the league, and it's possible coach Quin Synder makes appropriate adjustments to slow the Rockets down in Game 2. Ultimately, there are plenty of good defenses on the slate that could drop totals lower than expected.
Pacers at Celtics
Game 1 Box Score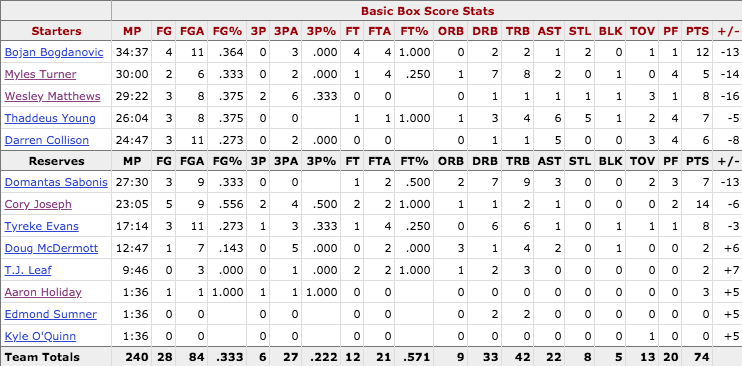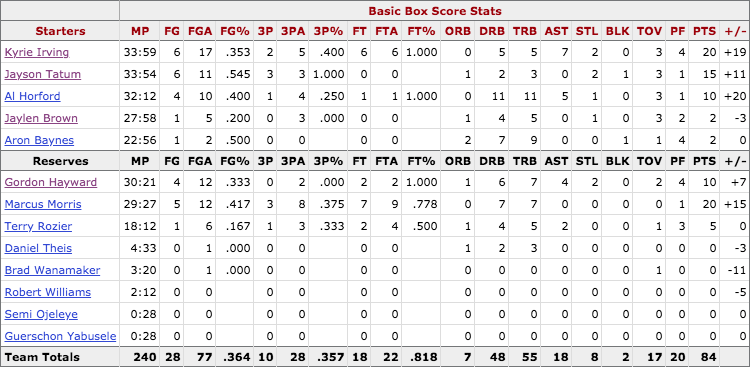 Indiana's offense was staggeringly poor, especially during their eight-point third quarter. The only thing that ended up keeping the Pacers in the game was their ability to take care of the basketball, as they committed four fewer turnovers than the Celtics. As DFS users, when a team struggles as much as Indiana, but we're still looking to roster some players, we should pay attention to minutes and shot attempts. Bojan Bogdanovic, Darren Collison and Tyreke Evans were the only players to take double-digit shot attempts, but just Bogdanovic played more than 30 minutes. He's the safest option available. If I had to gamble on someone to have a bounceback game, my money would be on Myles Turner. He was uncharacteristically poor from both the free-throw and three-point lines, and coach Nate McMillan will undoubtedly need to get him involved if Indiana wants to compete in this series offensively.
Though the Celtics got the win, they were far from putting on an offensive clinic. Boston shot just 36.4 percent from the field, while Jaylen Brown, Aron Baynes and Terry Rozier combined for three made field goals. Maybe the most important thing to keep an eye on for Game 2 is Al Horford's availability. The big man is questionable with an illness. Here's how things shake out when he's unavailable: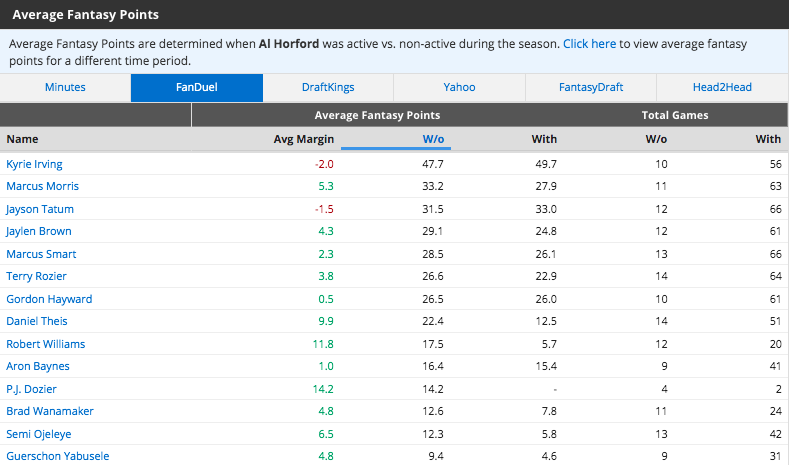 I think Marcus Morris and Daniel Theis are the players worth targeting if Horford is out. Morris is a relatively high-volume option already who thrives in Horford's absence, while Theis sees a bump from fantasy irrelevancy into strong value option.
Pistons at Bucks
Game 1 Box Score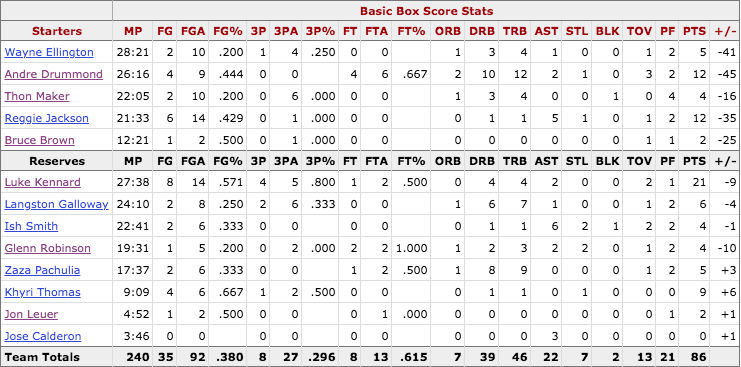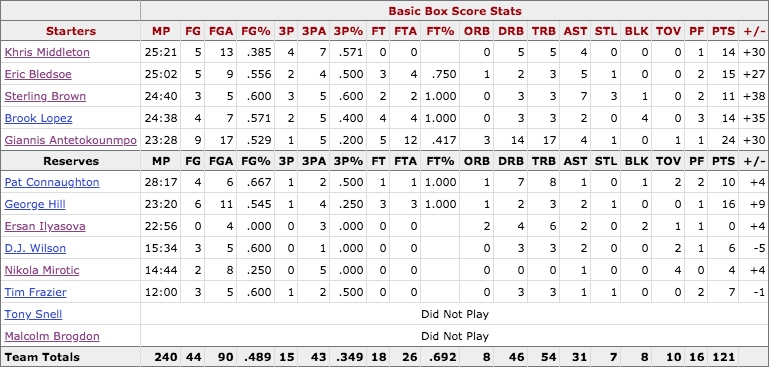 Unsurprisingly, the Pistons failed to win a single factor during Game 1, and things quickly got out of hand. Nobody on either team played more than 28 minutes during the blowout. The key to Game 2 for the Pistons and for DFS will be the availability of Blake Griffin. His return could be the only thing stopping a repeat performance. Otherwise, you may as well take a gamble on a reserve like Luke Kennard to come out firing when things tilt Milwaukee's direction.
The same logic applies to finding value on the Bucks. If Griffin is in, we can entertain deploying starters. Otherwise, your chances of returning value on guys like Giannis Antetokounmpo, Khris Middleton, Eric Bledsoe and Brook Lopez are thin. If you're looking for bench options, George Hill took 11 shots in 23 minutes, and I think coach Mike Budenholzer might try to get Nikola Mirotic going. He missed a significant chunk of time due to a thumb injury, and it's important for him to get his shooting stroke back before Round 2. During Game 1, he fired off five three-pointers in just under 15 minutes.
Jazz at Rockets
The Rockets have no injuries to report.
Game 1 Box Score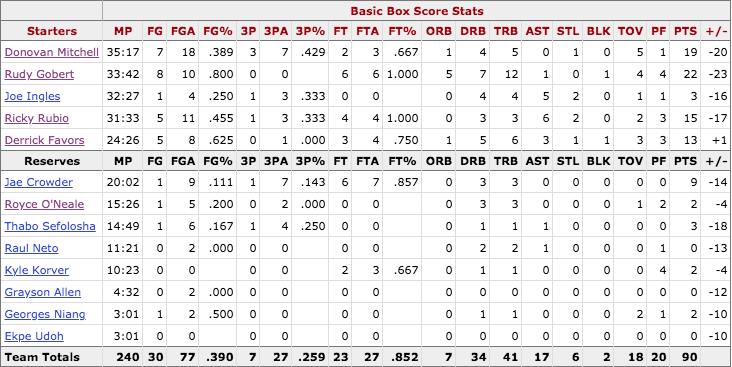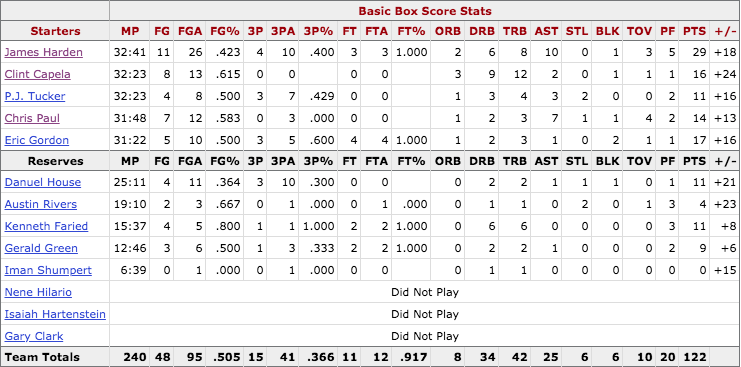 The Jazz dominated the free-throw battle during Game 1, taking 15 more attempts than the Rockets. But Utah couldn't come away winners in any other factor, which led to a blowout loss. Donovan Mitchell, Ricky Rubio and Rudy Gobert took the most shots on the team, but Gobert had the only standout performance. DFS users looking to stand out from the pack could consider rostering either Joe Ingles or Jae Crowder. I would be shocked if Ingles took just four shots again during Game 2, while Crowder went an uncharacteristic 1-for-7 from distance and was aggressive enough to take seven free-throws.
I'm not sure if there was a prop bet for how many free throws James Harden would take, but it certainly wouldn't have been set at 3.5. Despite shooting three or fewer free-throws for just the ninth time this season, Harden still thrived, nearly racking up a 30-point triple-double. Aside from that anomaly, Game 1 reads like a typical Rockets performance. Chris Paul played a quality role as the secondary ballhandler, Clint Capela got his double-double, P.J. Tucker was involved defensively and Eric Gordon came close to 20 points. Ironically, Harden's lack of attempts from the charity stripe while still being successful actually gives me more confidence in him for Game 2. If he can do this without getting to the stripe, what happens when that regresses to the mean?
The author(s) of this article may play in daily fantasy contests including – but not limited to – games that they have provided recommendations or advice on in this article. In the course of playing in these games using their personal accounts, it's possible that they will use players in their lineups or other strategies that differ from the recommendations they have provided above. The recommendations in this article do not necessarily reflect the views of RotoWire. Alex Barutha plays in daily fantasy contests using the following accounts: FanDuel Username: unclestosh99, DraftKings Username: Roto_Alex.