This article is part of our NBA DFS Breakdown series.
Odds
Spurs (-3.0)
Over/Under: 208
Stats Through Six Games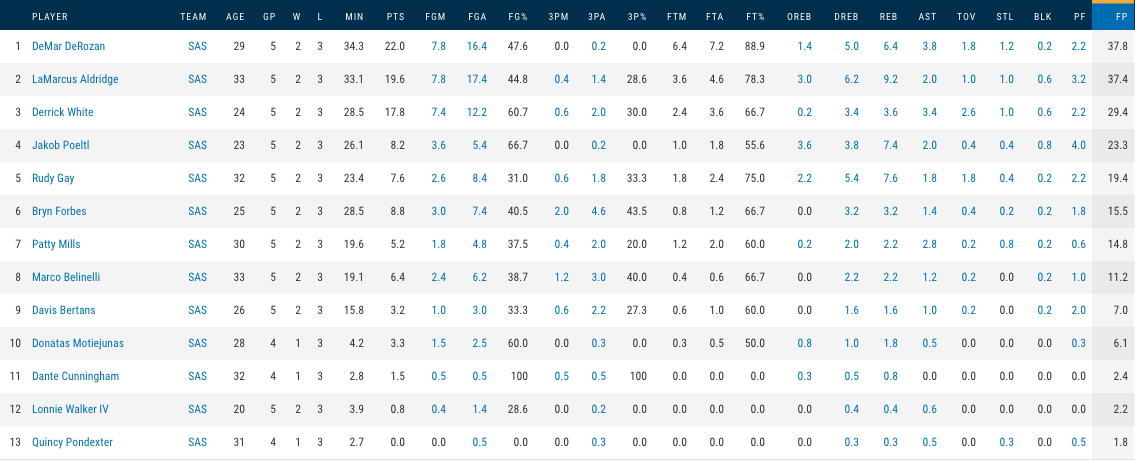 The momentum in this series has shifted. The Spurs went up 2-1, and it felt like they'd be able to go up 3-1 with home-court advantage. However, Denver managed to steal one on the road, and then proceeded to win Game 5 at home by 18 points. The Nuggets have found their touch from beyond the arc, with Nikola Jokic, Gary Harris, Malik Beasley and Torrey Craig all shooting 40-plus percent from three on at least 2.8 attempts per contest. If that continues, the series will be in their grasp. The main adjustment by coach Michael Malone has been sending Will Barton to the bench in favor of Torrey Craig over the past two games. Since then, Barton is averaging 22.1 FP on 47.6 percent shooting, while Craig is averaging 25.8 FP on 60.0 percent shooting.
Coach Gregg Popovich has stuck with his starting five, and we're seeing solid production from the Spurs' top-end talent – namely, DeMar DeRozan and LaMarcus Aldridge. But neither player has asserted their dominance on the series, and that might ultimately be what sinks San Antonio. DeRozan averaged 39.9 FP in the regular season, Aldridge averaged 39.7 FP, and both marks are below what they're doing in Round 1. Derrick White has done his best to patch holes, posting 29.4 FP per game on 60.7 percent shooting, but it might not be enough. After a strong regular season averaging 28.0 FP on 50.4 percent shooting, Rudy Gay has completely disappeared from this series, averaging 19.4 FP on 31.0 percent shooting.
If you're playing a cash game, you'll likely want Nikola Jokic as your captain, filling in value where you can – give yourself as high of a floor as possible. In GPPs, where you want your ceiling to be higher and for the unexpected to happen, another route could be best. My strategy would be to target DeRozan, Aldridge or Jamal Murray – the three players who have taken the most shots in this series and are high-usage players. That should help free up some salary for other high-priced role players.
The author(s) of this article may play in daily fantasy contests including – but not limited to – games that they have provided recommendations or advice on in this article. In the course of playing in these games using their personal accounts, it's possible that they will use players in their lineups or other strategies that differ from the recommendations they have provided above. The recommendations in this article do not necessarily reflect the views of RotoWire. Alex Barutha plays in daily fantasy contests using the following accounts: FanDuel Username: unclestosh99, DraftKings Username: Roto_Alex.