Efes at Barcelona
Date: 1/10
Time: 9:00 PM CET
Game Preview
Round 18 boasts a heavyweight matchup between two of the EuroLeague's preeminent teams. The home team, Barcelona, currently sits third overall, sporting a 13-4 record. Their opponent, Efes, has been just a tick better so far and currently sits in a first-place tie alongside Real Madrid at 14-3. Each team is exceptional on both sides of the ball and has similar season-long net ratings, with marks of plus-122 for the Spanish squad and plus-148 for the team for Turkey. The point guard matchup could decide the game, particularly because Barcelona is still without its top options at the position, Thomas Heurtel and Kevin Pangos. Adam Hanga, a noted defender, will square off against Efes' leading scorer, Shane Larkin, who is posting a team-leading 20.2 points per game on the season. This will be the first time the two teams have met since Round 1 and the second since last postseason, when Efes scored a hard-fought victory in the five-game series.
Injuries
FC Barcelona Lassa
Thomas Heurtel - OUT - Knee
1/9 10:53 PM IST - Heurtel (knee) is expected to be cleared to play before the end of January, according to Mundo Deportivo. Heurtel resumed working out in December, and he is now as close to making his season debut as he has been since undergoing surgery in August. Heurtel will provide a boost at the point guard position for Barcelona once he is back in action.
Cory Higgins - GTD - Illness
1/3 1:16 AM IST - Higgins will not play Thursday against Baskonia due to an illness, according to Barcelona's official Twitter account. Higgins should not be out long, but he will be unavailable Thursday for the first time since Round 2. It remains to be seen who will take his spot in the starting lineup, but Malcolm Delaney is the favorite to do so.
Kevin Pangos - OUT - Toe
1/9 11:08 PM IST - Pangos is in the final stretch of his recovery from a toe injury, according to Mundo Deportivo. Pangos is still dealing some soreness in his toe, but he has gradually been improving, and could be ready to play again before January comes to a close.
Anadolu Efes
Bryant Dunston - OUT - Arm
1/10 3:13 AM IST - Dunston (arms) will not play Friday against Barcelona, according to eurohoops.net. Dunston's absence will be extended one more Round, and without much practice time before either of the EuroLeague games Efes will play next week, he could miss at least another Round or two.
Vasilije Micic - OUT - Ankle
1/10 11:08 PM IST - Micic will not play Friday against Barcelona due to an ankle injury, according to TrendBasket. Micic was reportedly injured in practice, and while the extent of his injury is not yet known, he will not play in Round 18. Micic has started every game for Efes this season, so the the team will need to make a lineup change for Friday's contest.
Anadolu Efes Probable Starters
G - Shane Larkin
G - Rodrigue Beaubois
F - James Anderson
F - Chris Singleton
C - Tibor Pleiss
FC Barcelona Lassa Probable Starters
G - Cory Higgins
G - Adam Hanga
F - Victor Claver
F - Nikola Mirotic
C - Ante Tomic
Top Picks
(C) Nikola Mirotic, BAR - Mirotic has been dominant in his return to the EuroLeague and is currently sitting fifth overall league-wide in scoring. He's exceeded 20 points on seven occasions this season and has failed to crack double-figures just one time.
Shane Larkin, ANA - Anadolu's star point guard has done it all so far this season. He sits third-overall in the EuroLeauge's scoring column and has provided consistent averages of 3.8 assists, 3.2 rebounds, 3.1 threes and 1.1 steals per game on the year. Efes' best chance at a victory lies in Larkin's ability to dominate the point guard matchup against Adam Hanga.
Vasilije Micic, Ana - Larkin's backcourt mate, Vasilije Micic, is nearly as good. Despite a recent rough stretch in which he's failed to crack double figures in four-of-eight contests, Micic's easily been Anadolu's second-best player for much of the year. His recent explosion for 23 points in Round 16's matchup against Maccabi Tel Aviv indicates that his shooting woes may well be behind him. *Editor's Note – Micic has been ruled out for Round 18.
Cory Higgins, BAR - Higgins is the only other player on Barcelona averaging more than 10.0 points per game. Although he carries a slightly inconsistent shot, when he's on Higgins has perhaps the second-highest fantasy ceiling on the team, evidenced by the four times he's cracked 20 points this season.
Captaincy Options
Dream11 Team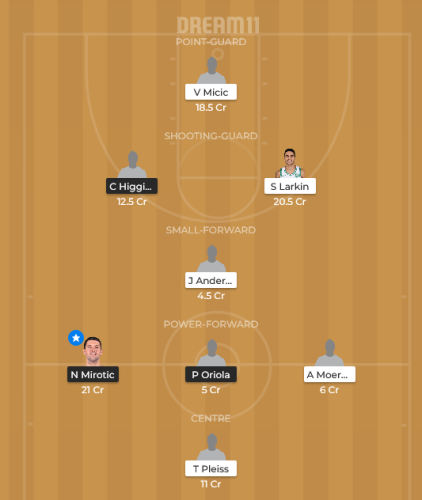 Grand League Combination
Mirotic, Larkin, Micic, Moerman
Small League Combination
Mirotic, Larkin, Micic, Higgins
The author(s) of this article may play in daily fantasy contests including – but not limited to – games that they have provided recommendations or advice on in this article. In the course of playing in these games using their personal accounts, it's possible that they will use players in their lineups or other strategies that differ from the recommendations they have provided above. The recommendations in this article do not necessarily reflect the views of RotoWire.