Baskonia at CSKA
Date: 1/17
Time: 6:00 PM CET
Game Preview
Friday's action kicks off with a rematch between two star-driven teams in CSKA and Baskonia. The Russian hosts, which sit in fifth place heading into Friday's game, will seek vengeance against a Baskonia team that soundly defeated them in Round 9. The win was one of Baskonia's best to this point in the season, but they've struggled in the 11 Rounds since, limping to a 3-8 record. The Spanish team will look to star big man Tornike Shengelia to help power a reversal in fortune. Shengelia has put up big numbers all season, and he delivered 22 points and six rebounds in the Round 9 win. He will be helped by a backcourt consisting of sweet-shooting Nik Stauskas, Shavon Shields and do-it-all point guard Pierria Henry. Their opponents also pack plenty of star power. The team is organized around Mike James, who's second in the EuroLeague in scoring at 20.8 points per contest. He's flanked by Darrun Hilliard and Daniel Hackett, and is complemented down low by the versatile Kyle Hines. Although they come out ahead in nearly every statistical metric, CSKA is bound to have its hands full with a wily Baskonia team that proved earlier in the season it can get the better of this matchup.
Injuries
Kirolbet Baskonia
Patricio Garino - OUT - Knee
11/24 12:28 AM IST - Garino has been diagnosed with a torn ACL in his right knee. Garino left Friday's game and was sent to the hospital. It's been determined that he tore his ACL and that surgery is needed.
Jayson Granger - OUT - Achilles
10/1 3:36 AM IST - Granger will miss six months with a torn Achilles tendon, according to euroleague.net. Granger was injured in Baskonia's Spanish League opener, and will face a lengthy recover period after undergoing surgery. Assuming his recovery goes as planned, he should be able to rejoin Baskonia at some point during the second half of their season.
Luca Vildoza - OUT - Shoulder
1/14 9:06 PM IST - Vildoza (shoulder) did not travel with his teammates for Baskonia's Round 19 and 20 games in Russia, according to Sergio Vegas of Radio Vitoria. Vildoza was not expected to play in either EuroLeague game on Baskonia's schedule this week, and this report confirms he will not do so. His next chance to play will come in Round 21 against Khimki, but it remains to be seen if he will be ready to take the court.
CSKA Moscow
Will Clyburn - OUT - Knee
11/11 8:25 PM IST - Clyburn underwent surgery Monday to repair the torn ACL in his right knee, John Askounis of Eurohoops.net reports. The operation officially spells an end to Clyburn's season after the 29-year-old injured his knee during CSKA Moscow's Round 4 game in EuroLeague play. Clyburn will return to Moscow to continue his rehab and is expected to make a full recovery ahead of the 2020-21 season.
Daniel Hackett - GTD - Finger
1/16 10:40 PM IST - Hackett (finger) is expected to return to action Friday against Baskonia, according to CSKA's official website. Hackett missed CSKA's last two EuroLeague games after injuring his finger in a domestic league game earlier this month, but he was able to resume practicing Thursday, which puts him on track to get back on the court in Round 20.
Janis Strelnieks - OUT - Hamstring
1/5 11:10 PM IST - CSKA Moscow announced Sunday that Strelnieks will be out "long term" after suffering a left hamstring injury in the second half of Friday's 106-102 loss to Panathinaikos in Round 17. The point guard will conduct his rehab at the club's facility in Russia before he's likely re-evaluated within the next few weeks, but it's fair to expect him to remain sidelined at least through the end of January. Strelnieks has appeared in 17 EuroLeague matches for CSKA Moscow this season, averaging 8.0 points, 2.2 assists and 1.7 rebounds in 16.6 minutes.
Kirolbet Baskonia Probable Starters
G - Pierria Henry
G - Matt Janning
F - Shavon Shields
F - Tornike Shengelia
C - Micheal Eric
CSKA Moscow Probable Starters
G - Mike James
G - Daniel Hackett
F - Nikita Kurbanov
F - Johannes Voigtmann
C - Kyle Hines
Top Picks
Mike James, MOS - CSKA's star guard has taken the reigns for a team that currently lacks its top five scorers from last season. James has eclipsed 20 points five times in the past seven Rounds and is averaging 24.6 per game over that span.
Tornike Shengelia, KB - Shengelia is one of the best forward's in the league, as evidenced by his average line of 16.7 points, 6.0 rebounds and 2.4 assists per game. CSKA's defensive efforts will likely be directed at slowing Shengelia down, but that's easier said than done.
Pierria Henry, KB - Henry stepped up in support of Shengelia over the past three Rounds, totaling 39 points, 11 rebounds, 10 assists and a whopping 14 steals while making better than 50 percent of his looks from the floor on two of the three occasions.
Kyle Hines, MOS - Over the past three Rounds, Hines matched his stellar defensive work with equal success on the offensive side of things, putting up 12.0 points, 7.0 rebounds, 1.0 assists and 1.3 blocks per contest. He will play a key role in determining just how effective Shengelia is in Round 20.
Captaincy Options
Dream 11 Team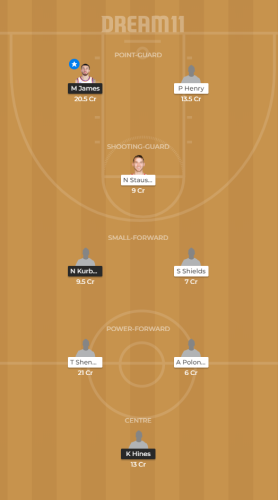 Grand League Combination
James, Shengelia, Henry, Stauskas
Small League Combination
James, Shengelia, Henry, Hines
The author(s) of this article may play in daily fantasy contests including – but not limited to – games that they have provided recommendations or advice on in this article. In the course of playing in these games using their personal accounts, it's possible that they will use players in their lineups or other strategies that differ from the recommendations they have provided above. The recommendations in this article do not necessarily reflect the views of RotoWire.