This article is part of our The Stats Room series.
One of my favorite roster moves is to pair a kicker and quarterback on the same fantasy team, especially if they are part of a high-powered passing offense. It helps eliminate the risk each week of both the quarterback and kicker not scoring points. If the pair's team is limited to just field goals, the kicker gets more points. If their team gets into the end zone, the quarterback's touchdowns make up for the the kicker's lower score.
The idea seems to work in theory. But how about in practice? … Not so well.
Here's the background information on the study: I looked at kickers and quarterbacks who were paired in at least 12 games during a single season from 2000 to 2015. I didn't want players matched up when one or the other's team role was in flux — if a fantasy owner is going to use this strategy, he is going to established players. Also, I used a standard scoring format for the fantasy points (FP).
Let's start with a basic understanding of these QB-K combos. One idea that can be put to rest is that a high-scoring quarterback means his kicker will score a lot more points. Here is a graph of the average number of points they both score when paired together.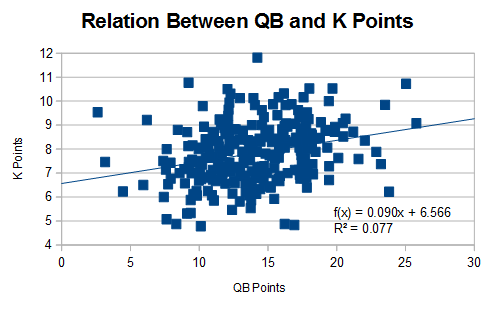 While there is some increase in the number of points scored for the kicker as the quarterback's points increase, the change isn't much. The average number of QB points per game was about 14