This article is part of our The Armband series.
It's been almost two weeks since Gameweek 26 when every top captain came through as expected, a rarity in fantasy Premier League. Sergio Aguero scored a hat trick, and while he wasn't my top option, Mohamed Salah and Sadio Mane still managed to find the back of the net, with Paul Pogba ahead of them both after scoring a brace. The only misstep from that gameweek was Pierre-Emerick Aubameyang, who didn't make an appearance against Huddersfield. Otherwise, if your captain didn't get you at least 10 fantasy points, you did something wrong.
After a week off, the league returns to a Friday start with two matches. While you may not want to captain anyone from those teams, you still have to get your squads set before then. The problem is that Manchester City are off for Gameweek 27, which means you can't bank on an Aguero hat trick again. Instead, it's a little trickier since none of the matchups truly stand out, with Arsenal being the biggest favorite.
The Gunners are at home, but they're still far from easy to trust especially after the midweek loss against BATE last week. Aubameyang should return to the squad and be a top captain with six goals and three assists in his last six home starts. Alexandre Lacazette should be rested following his Europa League suspension, but he doesn't have the same upside, rarely having more than one shot on goal in a match. Southampton are sitting in the relegation zone, but they haven't allowed more than two goals in a match since falling to Man City in December, which doesn't help matters when backing Arsenal.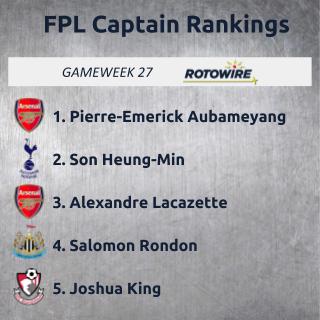 The biggest question could end up being Harry Kane, who returned to training this week. I'd still put money on Son Heung-Min ahead of him because even if Kane starts, he won't be playing a full 90. Plus, Son can't be stopped with an appearance on the score sheet in eight of his last nine starts in all competitions. His position will change if Kane starts, but that's not enough to trust a guy who hasn't played in over a month. Christian Eriksen has become fantasy relevant again with five shots on goal and 12 chances created in his last three starts, but his lack of goal scoring is still an issue. As for Burnley, they've been a tricky team and have had success in recent home matches, though that's mostly due to their schedule. They've given up 12 goals in three home matches against Chelsea, Liverpool and Everton dating back to October.
Unfortunately, Manchester United host Liverpool, which takes away anyone from the Reds. In a 3-1 win against Jose Mourinho back in December, Salah still didn't make the score sheet as Xherdan Shaqiri came on late to score a brace. The best play from this match has to be Pogba, but that's still a stretch when Son and Aubameyang have better matchups. Even then, Liverpool haven't allowed more than two goals in a Premier League this season, so expecting United to change that is a stretch. The Red Devils are playing well, but they won't get an overwhelming number of chances.
The rest of the options are a mystery, as has been the case most of the season. Aleksandar Mitrovic can be avoided since he's playing away, though West Ham have a chance to produce at home against Fulham. However, not many have Marko Arnautovic in their lineups, and he's not guaranteed to start anyway. Felipe Anderson could be considered, but he doesn't have a shot on goal in his last five starts. Some fantasy bosses will likely bank on a few goals from the Bournemouth v. Wolverhampton match, which is a possibility even if the odds don't show that. The Cherries have scored multiple goals in their last four home league matches, and when that doesn't happen, they usually give up multiple goals, as seen in losses to Liverpool, Arsenal and Man United. With Callum Wilson still out, Joshua King should get more opportunities after having 16 shots and 10 chances created in his last six starts. Wolves can't be overlooked, with Raul Jimenez the best option, making the score sheet in three of his last four starts.
This would be the perfect time to back Jamie Vardy, but he's oddly scoring more on the road and Crystal Palace have been surprisingly stout defensively, allowing two goals in their last five matches in all competitions. Newcastle probably have the best matchup on paper at home against Huddersfield, but it'll take luck in guessing their goal scorer. Salomon Rondon is the most logical as the forward averaging 2.70 shots per 90 minutes, and he scored in the previous meeting at Huddersfield. Otherwise, you're banking on bonus points and a clean sheet from Fabian Schar or Matt Ritchie to connect on one of his many crosses. My money is on Rondon, but not by much.