This article is part of our The Armband series.
Are we done with Mohamed Salah yet? The leader in total FPL points blanked this week for the fourth time in five matches. Once a threat to score every match, he didn't even manage to make the score sheet in 90 minutes while Liverpool scored five times in Wednesday's win. That frustration could easily continue at Everton and every owner will have a decision to make regarding the armband.
Surprisingly, it was teammate Sadio Mane who stole headlines in Gameweek 28, with the likes of Gylfi Sigurdsson, Henrikh Mkhitaryan and Mesut Ozil Surely, this isn't 2019.
There's no time to complain about Salah because Gameweek 29 begins shortly with a full slate this weekend highlighted by Saturday's opening match, the north London derby. But similar to the Merseyside derby, there are better places to look for captains because while these are good matches, there's no telling what will happen. Harry Kane is the most logical choice because of Arsenal's sketchy back line, but otherwise it's not the time to give Sigurdsson or Salah the armband. Mane is playing well, but these teams battled to a 1-0 result in the first meeting, which was at Anfield. Kane is at least at home against a defense that's allowed two goals per away match. He's also been one of the more consistent forwards, and while he didn't bag a goal at Chelsea, he has made the score sheet in seven of his last nine starts.
The most popular captains will likely come out of Manchester, with City at Bournemouth and United hosting Southampton. The Red Devils get the edge at home against the Saints, who are competing but still likely to allow a goal or two. Paul Pogba is the safest pick even though his numbers have slowed down. He's made the score sheet in six of his last seven starts in league play and has the threat to score or assist every match. The other part is that Marcus Rashford and Romelu Lukaku are battling for time and production. Lukaku bagged a brace while Rashford watched from the bench last match, and those two could go back and forth the rest of the way. This is also a good spot for a clean sheet, so Ashley Young and Luke Shaw take the lead in that category with some upside on the flanks.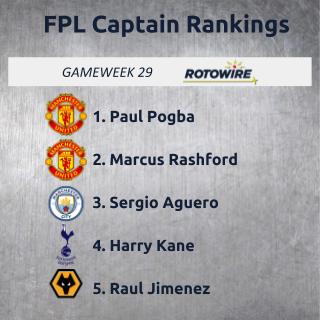 If you prefer City because they have better odds to win, there's only one place to go: Sergio Aguero. Then again, there's a chance Gabriel Jesus returns and pushes Aguero to the bench given his busy week. Either way, it can't be overlooked that Bournemouth have been a good team at home, so it's wise to keep that in mind. In fact, they have a clean sheet in three of their last five at home, including a shutout of Chelsea. Not to mention, City have struggled to find the back of the net, as they are without a goal in open play from their last two matches in all competitions. There's always the potential goals pour in, but you still have to figure out who will score them. Kevin De Bruyne will be involved at some point, and David Silva is always around the net, but Raheem Sterling may be the most potent after getting some rest Wednesday.
The other big club to consider is Chelsea, who go to Fulham. The Cottagers are on a brutal stretch, losing their last four by a combined 10-1 score line. It's not that Eden Hazard is playing well, but if someone were to score for Chelsea, he'd be the most likely. Then again, guys like Pedro, Willian and Gonzalo Higuain are always threats. It also doesn't help that Hazard has made the score sheet in just two of his last eight starts.
It's fairly bleak if you want to look elsewhere because Brighton have the best matchup against Huddersfield, but no one is going out of their way to pick up Glenn Murray and captain him. It also doesn't help that two of the best mediocre clubs face off in Burnley and Crystal Palace. Both are coming off losses, but Burnley have played well at home, allowing one or zero goals in their last four. There's no telling how Palace will play, and the introduction of Michy Batshuayi has taken away some of Wilfried Zaha's upside. Ashley Barnes could find himself with a few armbands after scoring in four of the last five, but that takes some guts.
It's the same situation between West Ham and Newcastle because while the Magpies are on the road, they're playing well and it's not like Marko Arnautovic is a dominant threat. Four different players have scored the last four goals for West Ham, none of them being Arnautovic. The better choice may be to hope that Wolves forget what happened in their last match, a 1-0 loss to Huddersfield. They're back home where they've scored eight in their last three, while Cardiff have given up eight in their last two. Raul Jimenez remains at the top of the list, even after busting against Huddersfield. He's made the score sheet in four of his last six starts and is likely to get at least one shot on goal and create a chance or two, which is better than most.
The upside play would be to see if Troy Deeney and Gerard Deulofeu can replicate what they did two matches ago. Both are extremely inconsistent, but they're at home against Leicester, who seem to allow at least one goal every match, and have allowed multiple in three of their last away from home.