This article is part of our The Armband series.
Let's all shake our heads in unison. We knew Mohamed Salah would bust in the Merseyside derby, so the logical route became Paul Pogba in one of the more favorable matchups of the gameweek. And while Manchester United bagged three goals, Pogba wasn't involved in any of them and then had a stoppage-time penalty blocked by a foot. And that's how FPL goes. The best and most popular captain option finished with negative points.
Luckily, there's always next week, and Gameweek 30 should be a little easier, at least in terms of choosing a captain. Well, maybe. Manchester City (v. Watford) and Liverpool (v. Burnley) are the biggest favorites but have oddly been some of the harder teams to project in recent matches. Of course, a lot of that unpredictability is due to playing away, but that's not an issue this week.
Sergio Aguero has made the scoresheet in every home start this season. That's 15 goals and four assists in 11 home starts, including three hat tricks. If you have him and don't captain him, stop playing FPL. More intriguing is that Watford gave up five goals to Liverpool in their last away match and City could easily hit three. Raheem Sterling may be the only other City player I'd consider for captain since no one else is guaranteed to start and, similar to Aguero, he's been great at home with two goals and two assists in his last two starts. City host Schalke a few days later, but I don't expect that to change things in the lineup, especially with the league title still in sight.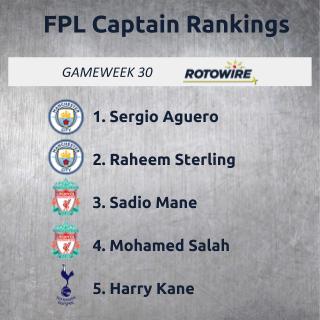 As for Liverpool, they're much better at home and have scored at least three goals in six of their last seven at Anfield. Burnley were on a nice run but have now lost their last two to Newcastle and Crystal Palace by two goals each. Salah has always been the top option, but something isn't working for him, as he is without a goal in his last four starts and one in his last seven. Sadio Mane may not have the same upside, but the numbers don't lie with five goals in his last seven starts. Similar to the City players, Mane's numbers are juiced at home with at least one goal in five of his last six. Salah is more widely owned, but Mane gets the armband from me yet again. Liverpool are also safer in terms of a clean sheet, so Andrew Robertson and Trent Alexander-Arnold can be in the conversation with their assist upside.
If you prefer backing top clubs, there's only one other place I'd look with Tottenham going to Southampton. Southampton are at home, but they're having issues and recently lost 2-1 to Cardiff. Harry Kane is the only guy on my radar, especially with how underwhelming Spurs have been as a team. At the least, Kane has made the scoresheet in 11 of his last 13 starts.
Chelsea are at home, but Eden Hazard and Gonzalo Higuain aren't in my captaincy plans. Plus, Wolves have consistently shown up against the top clubs and have allowed more than one goal only once (at Man City) in their last seven road trips. Arsenal and Manchester United are in a battle for the final Champions League spot, but that doesn't scream fantasy relevance.
The best contrarian captain will likely be from Crystal Palace as they host Brighton, who have given up multiple goals in their last five away matches. For the Luka Milivojevic backers, Brighton have conceded two more penalties than any other team in the league. Otherwise, Wilfried Zaha is on a bit of form with five goals and 13 shots in his last five starts. He's the most reasonable choice, though it wouldn't surprise if Michy Batshuayi found the back of the net again having scored in two of his last three starts.
There aren't many other desirable options for captaincy unless you're big into Jamie Vardy. But while he's scored in three of his last four appearances and is home against Fulham, he also left last match with a knock. If he's back in training this week he's definitely in the mix, mostly because Fulham allow goals to everyone. If Vardy can't go, James Maddison is probably next in line because he's almost guaranteed to create at least three chances, something he's done in his last five starts. You could throw Salomon Rondon into the mix because of his form at home, but I don't completely trust Newcastle against Everton, who have allowed one goal in their last three road matches. Callum Wilson is an intriguing option if he returns to the squad against Huddersfield, though Bournemouth have been terrible away.